Hembree Heating & Air Conditioning: About Us
Superior HVAC Services in Mobile & Baldwin County, AL
Hembree Heating & Air Conditioning was founded over 50 years ago by Hembree's father, Walter Donald Hembree Sr. with a focus on delivering quality care and attention to our neighbors' heating and cooling systems throughout Mobile and Baldwin County, AL. Today, the company has grown to include thousands of happy customers. We attribute this to the high-quality workmanship and reliable service we bring to our customers every day.
When you choose Hembree Heating & Air Conditioning, you can expect:
Licensed heating and air conditioning contractors by the state of Alabama
Member in good standing of the Better Business Bureau
Member of the Air Conditioning Contractors of America
Member of the Mobile Air Conditioning Contractors Association
Certified in Refrigerant Transition and Recovery
Received Top Gun sales award from Alabama Power for overall sales and customer satisfaction
With highly skilled and experienced technicians, as well as the latest technology in the industry, we are able to ensure that you and your family enjoy the level of service you deserve. You can count on us to carry out the efficient installations, diagnoses, and repairs you need without any hassle.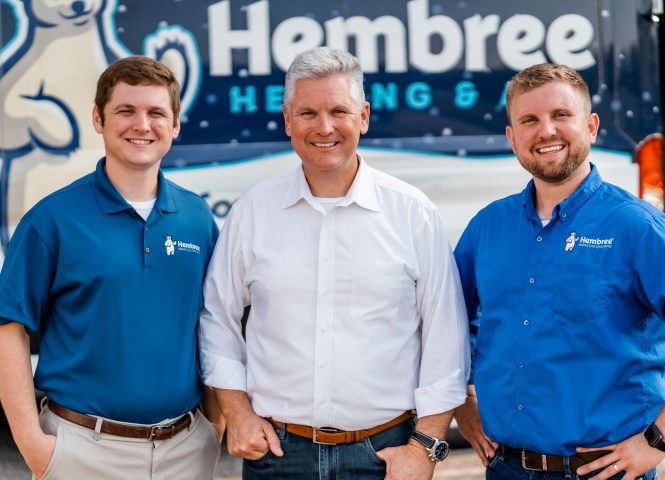 Keeping You Cool, Cozy & Comfy Since 1969
Your Heating & AC Specialists
Book an appointment or contact our team with your questions!
What Our Mobile, AL HVAC Company Can Do for You
We measure our success by your satisfaction. Our team is always looking for ways to better serve you and make sure you are happy and comfortable. While our customer base has grown over the years, many of our long-time, loyal customers still trust us with their heating and air conditioning needs. We look forward to earning your trust and establishing a long-lasting relationship through top-notch workmanship and personable service.
Here are some features that make our Mobile HVAC company stand out:
We sell most HVAC brands
Financing is available for major purchases
Free estimates are offered on system replacements
Minor repairs (no extra parts needed) are charged a flat diagnostic fee
Diagnostic fee waived on old equipment if system is replaced by our team
There is no problem too tough for us to solve. We have the skills and the experience to provide you with a comprehensive solution that takes into account your property's needs and your preferences. We understand that every homeowner's needs are unique, so we work closely with you to arrive at the most cost-effective decision for you and your family.
Give us a call at (251) 259-4664 or contact us online today!
Experience Makes All the Difference
Over 50 Years Serving Mobile & Baldwin County's HVAC Needs
At Hembree Heating & Air Conditioning, we're committed to offering trusted service and personal attention with every call!
20+

Certified Technicians
The Top Five HVAC Brands We Offer
Has the time come to think about investing in a new HVAC system? If so, then you may find yourself feeling overwhelmed with the choices: how can you determine the right brand to meet your needs that provide you with efficient heating and cooling whenever you need it?
If Googling has gotten you nowhere and you're not sure where to start, just take a look at our list of "top 5 HVAC brands" and make an informed choice:
Amana: Amana is known for delivering products that fall within the 13 to 18 SEER range and are often covered some of the most extensive warranties in the industry. In particular, the Amana AXSC18, which comes with a lifetime warranty, is known for offering up to 18 SEER, and coming equipped with a two-speed fan motor and coil and temperature sensors.
Trane: Trane is often referred to as the "Cadillac of HVAC", and with good reason! Their products earn consistently high ratings for energy efficiency, quietness, and reliability. In addition to being covered by a 10-year warranty for service and parts, many Trane products, including the Trane XV20i central air conditioning system, include modern upgrades. For example, with the XV20i system you can control your indoor air quality and temperature right from your mobile phone.
Carrier: The carrier is probably the most well-known brand that we suggest to our customers, and there's a good reason for it: Carrier is considered to be one of the top HVAC companies in the United States, and their air conditioners are regularly reviewed at five stars. Whether you need eco-friendly and efficient heat pumps, geothermal heat pump units, or just need to replace your old and worn-out AC unit, Carrier is always an excellent choice.
Ruud: Rudd produces HVAC products for both commercial and residential customers, and their air conditioning units are known for working efficiently throughout the length of their long lifespan. Not only do their products last a long time, but when something breaks down and needs repair you can guarantee that it will be resolved quickly since Ruud parts are readily available throughout most of the United States. Want our recommendation? Make sure to look up the Ruud Achiever Series. These single-stage air conditioning units feature PSC fan motors and scroll compressors, as well as a composite base pan which is designed to prevent corrosion while also muffling operating sounds.
Nortek Global: Nortek Global is a manufacturer of a variety of well-known brands, including Frigidaire, Westinghouse, and Maytag. In particular, the Maytag M1200 PSA4BI iQ Drive, a split-system air conditioning system, consistently earned high approval ratings in energy efficiency and quietness, as well as boasting SEER ratings of up to 25.5 and EER ratings of up to 15.
Contact Hembree Heating & Air Conditioning
If you are struggling with an HVAC problem, don't deal with the issue alone. Hembree Heating & Air Conditioning is here to provide you with the best solution at a price you can agree on.
We're Here for Your Comfort!
We provide the highest quality HVAC services for local residential and commercial customers in Mobile and Baldwin County. No matter the weather outside, our team can help you bring the perfect temperature to your property.
Ready to Keep Your Home the Perfect Temperature?
Our team is here to answer your questions. Contact us today at (251) 259-4664 or complete the form below.