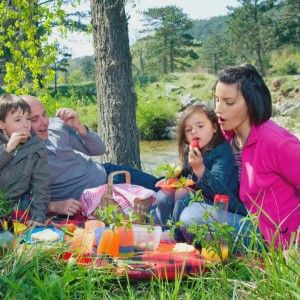 The warm, lazy days of summer offer many opportunities to enjoy time with the family. You don't have to escape on a long, exotic vacation to have memorable times, enjoy the outdoors, and have new experiences. You can plan a variety of activities that provide fun, chances to learn new things and a relaxing change from your routine. Take one month out of summer before September arrives to explore the entertainments that are available in your area.
Schedule Your Activities For the Summer Months
Don't leave your summer plans to languish in confusion from a "what shall we do today?". Do some research of attractions and activities that are available in your area. Create a month-long calendar of scheduled events. Scheduling events will limit inter-family arguing and provide information to everyone about what to expect. Here are some sample activities that most families enjoy:
Day at the Beach
Hiking in nearby state park
Museum day
Water park day
Zoo day
Bicycle riding
Local festival
Outdoor sports at the park
Aquarium visit
Historical sites and monuments
Make A Fun Month Calendar
Sit down with the family and create a summer fun calendar that schedules exciting events for each day of the week. In this way, you can ensure that each member of the family has a voice in choosing a favorite activity, and no one is left out of the process. Don't forget to plan rest periods at in-between home events so you can cool off and relax before the next stop. Make sure your air-conditioner is inspected and repaired to avoid inconvenient breakdowns during hot weather.
Organize Your Activities
Make a list of items you will need for the daily activity. You may want to plan a picnic lunch for a day at the beach or outdoor games. If you need specialized equipment, make sure you have it on hand in preparation for the activity. Check your wardrobe for appropriate swimsuits, hiking shoes, hats, sunglasses, coolers for drinks and other necessary items. And don't forget the sunscreen.
Make sure your home is fresh and comfortable to come back to, with a thorough HVAC inspection and cleaning to ensure your family summer fun ends right. When it comes to ultimate home comfort in Mobile Alabama, Hembree Heating & Air Conditioning has all the HVAC experts ready to help you fast and efficiently. Call us today at (251) 259-4664!